Ponca Tribe of Nebraska Child Protection Training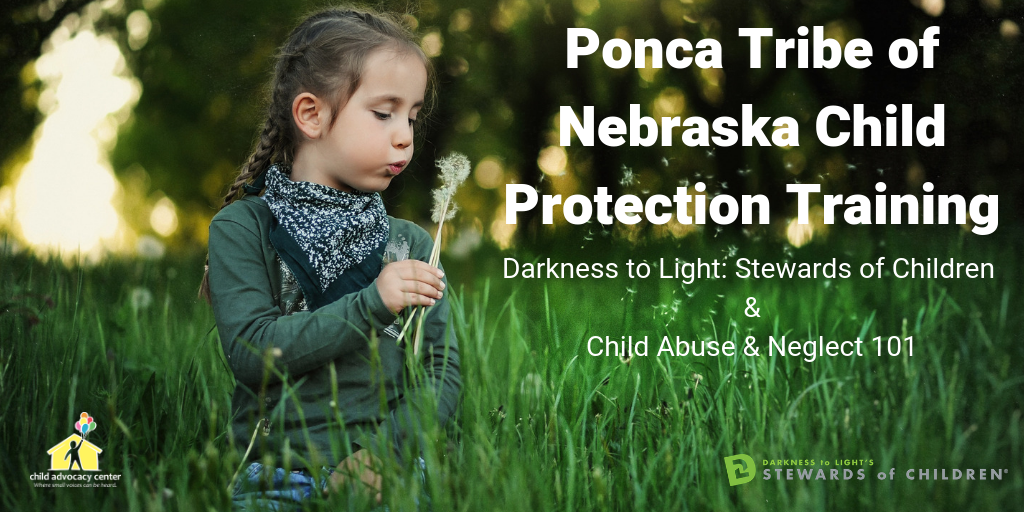 **There will be two sessions for this training which has been specially designed for the Ponca Tribe. Upon registering, please select which session you would like to attend or the option to attend both sessions. There will be a 1-hour lunch break between sessions.**
Session 1: Darkness to Light - Stewards of Children
10am-12pm
Description:
One in 10 children in the U.S will be sexually abused before the age of 18. Darkness to Light believes that adults are responsible for the safety of children and that adult should be taking proactive steps to protect children from sexual abuse. It is unrealistic to think that a child should be responsible for fending off sexual advances by an adult. This training will introduce a 5-step approach to protect children from sexual abuse, address child sexual abuse, and provide a clear understanding of perpetrator grooming tactics. This training will also teach you how a few simple actions can have far-reaching positive effects.
Session 2: Child Abuse/Neglect 101
1pm-4pm
Description:
The purpose of this three-hour course is to prepare mandatory reporters with the knowledge and skill needed to recognize and report child abuse and neglect. Participants will discuss challenges associated with reporting abuse and neglect, study case examples, practice asking minimal facts questions, and receive resources that will help them with knowing how and when to report.
Target Audience:
Any caring adult who wants to learn more about how to protect children including professionals, parents or service providers working with children.
Cost:
This training will be offered at no charge to attendees. However, registration is required.