Defend our Children Conference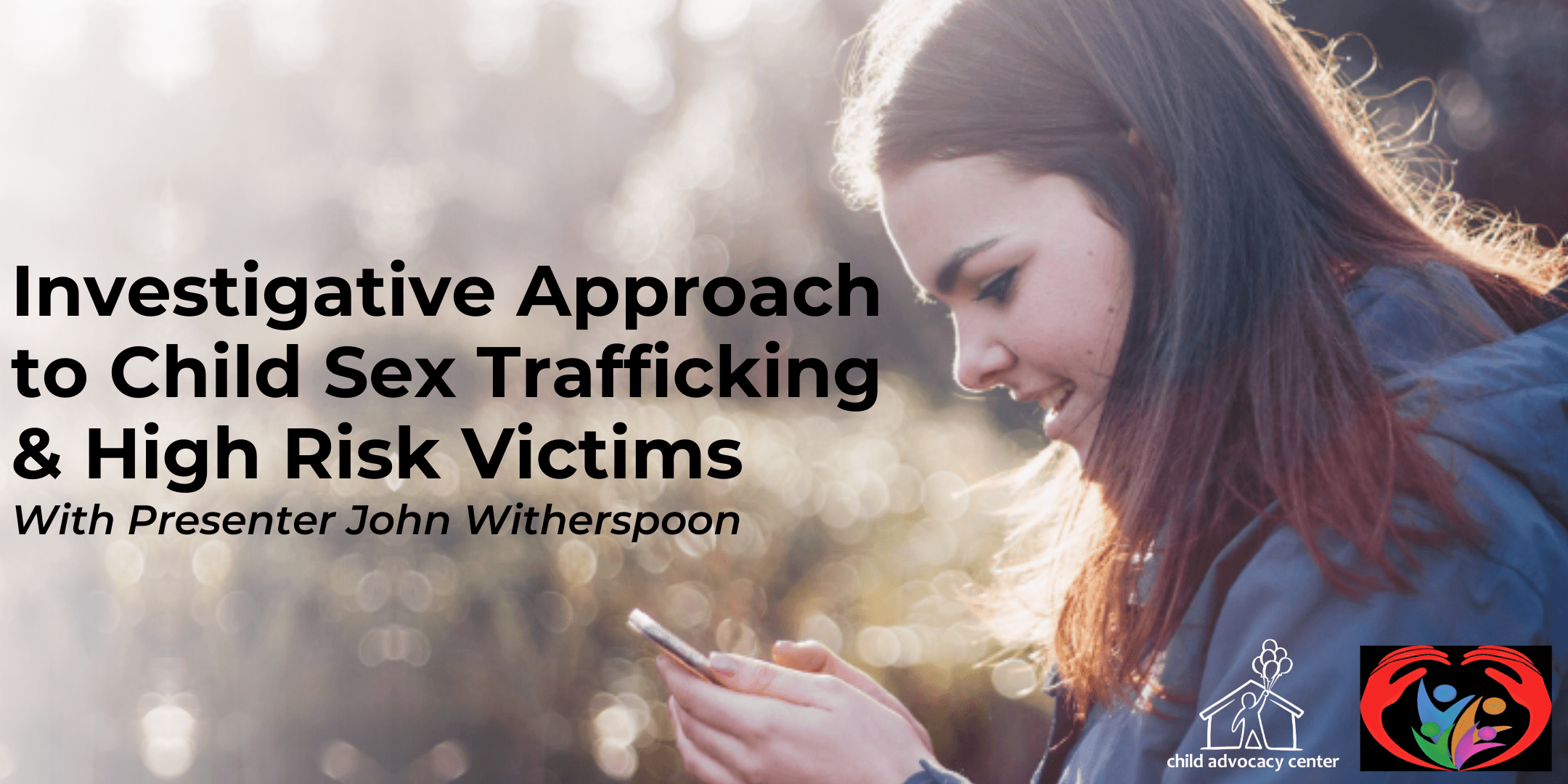 Join the Child Advocacy Center for an in-depth look at the investigative approach to child sex trafficking and high risk victims.
Agenda:
Day One: (8:00 a.m. – 5:00 p.m.)
8:00 a.m. – 8:30 a.m. – Registration & Breakfast
8:30 a.m. – 10:00 a.m. – Focus Session
10:00 a.m. – 11:30 a.m. – Introduction
11:3 0 a.m. – 12:30 p.m. – Lunch (On Own)
12:30 – 2:00 p.m. - Initial Response to Missing/Runaway Juveniles
2:00 – 3:30 p.m. - Initial and Advance Response to Human Trafficking Victims (Including Recovery Strategies)
3:30 – 5:00 p.m. - Reyes Case Study
Day Two: (7:30 a.m. -3:30 p.m.)
7:30 a.m. – 9:00 a.m. – Breakfast & Review Group Assignment
9:00 a.m. – 10:30 a.m. – Interview Interrogation
10:30 a.m. – 12:30 p.m. – Case Assignment with Working Lunch (Provided)
12:30 p.m. – 2:00 p.m. – Case Presentations
2:00 p.m. – 3:00 p.m. – Application
3:00 p.m. – Conclusion & Evaluation
Cost:
This training is free to attend but registration is required and seats are limited.
About the Presenter:
John Witherspoon is a Montgomery County (MD) Police Officer where he is currently assigned to the Special Victims Investigations Unit, (SVID) Runaway/Missing/ Children's Division. A 24-year veteran of the department, Det. Witherspoon has been a member of the Human Trafficking Task Force, which also investigates Kidnappings, Parental abductions and International abductions, for the past 9 years. Recognized as a subject matter expert, Det. Witherspoon has testified, or presented in Court testimony in over 50 missing/runaway cases and has investigated over 2500 missing cases in his career. Prior to this assignment, he served as the School Resources Officer (SRO) in the 6th District, 3rd District and the 2nd District at Bethesda Chevy Chase High School. Witherspoon has also served as a Detective with the Special Investigations Division, Drug Enforcement Section, and began his career in the 2nd District as a Patrol Officer upon graduation as a member of Session 35 in 1998.
In 2018 Witherspoon was named By the United States Department of Justice (DOJ), through its Office of Juvenile Justice and Delinquency Prevention (OJJDP), as the recipient of the 2018 Missing Children's Law Enforcement Award. This award was in response to a nationwide request to law enforcement departments to recognize officers demonstrating efforts above and beyond the normal call of duty. Witherspoon was nominated by his supervisor in response to an investigation involving a runaway Juvenile that resulted in her murder by an area gang. The efforts included the recovery of her body, the subsequent arrest and sentencing of 21 individuals involved and the relocation of her family.
In addition, in 2018 Det. Witherspoon established the non-profit organization "Defend our Children". DOC is designed to assist Law Enforcement and the community with awareness and training in the areas of Human Trafficking and assistance for victims and families of those affected by HT as well as career training assistance to those with learning and developmental delays. https://defendourchild.com/
In June of 2020 Det. Witherspoon initiated the MCP Focus Group to address social/racial injustices as they relate to Police Officers. The weekly meeting of Officers, civilian employees, and the Law Enforcement community was met weekly since June in efforts to better educate, equip, understand and implement social change among ourselves, our families and the communities we serve as peace officers. To date, these sessions have served over 100 officers to include our Chief and Assistant Chiefs of Police, Montgomery County Council members, NCJTC staff, and our Emergency Communications Center. In addition, these sessions have been offered corporately, to Professional Sports teams and High School and NCAA athletic programs.
Detective Witherspoon also serves as an Associate Instructor for the National Criminal Justice Training Center of Fox Valley Technical College and was a featured presenter at the National Missing and Unidentified Persons Conference in Las Vegas NV, March of 2022. He also is an instructor for At-Risk Missing and High-Risk Endangered Missing Children.