Room to Heal
Transforming spaces so children can heal.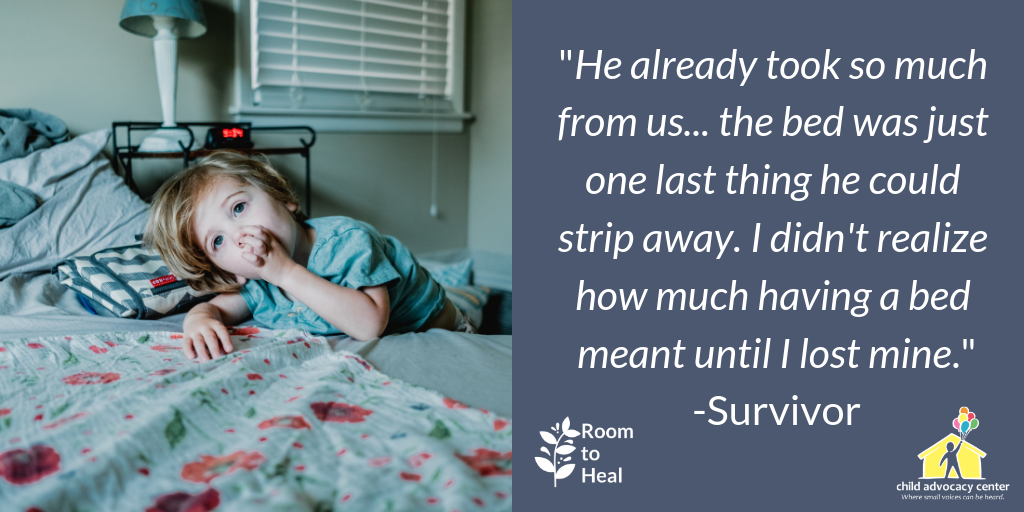 Room to Heal is a project to transform the space in which a child was impacted by trauma so they can begin their healing. In most cases, the child is going back to the room in which the abuse occurred, surrounded by things that remind them of what happened. 
In 2018, the Lincoln/Lancaster County Child Advocacy Center served 1,124 children. Of the children that disclosed abuse and/or neglect, almost 60% identified the abuse to have happened in their own homes.
Whether it is a lamp, new bedding, an area rug, window treatments, or painting the walls, a room makeover is a simple, yet profound act of creating a positive and safe environment for child victims of abuse.
What it Takes:
Financials - Total $1500 per room*
Bed: $550 - Includes mattress, headboard, frame, sheets/comforter set, pillows
Side Table: $110
Dresser: $250
Paint: $140 - Includes (2) cans of paint, painting tools
Window Treatments: $100
Bookcase/Shelving Unit: $100
Decor: $200
Lamps/Lighting: $50
*All pricing is based on a twin sized bed for a 12'x12' room for one child. This room estimate is merely an example as each situation , child and family will be different.
Community Power - 
All Room to Heal projects will be completed be groups of volunteers. 8-10 volunteers will be needed per room. To volunteer, please fill out our volunteer application. Community partners that are willing to support our cause through monetary and in-kind donations will also be needed.
How You Can Help:
Engage! Talk with your local church group, friends & family or coworkers to volunteer together
Sponsor! Speak with your employer or a local business or church about sponsoring one or more bedroom makeovers
Spread the Word! Like the Child Advocacy Center on Facebook and share our Room to Heal updates and stories.