How Aubrey SHINEs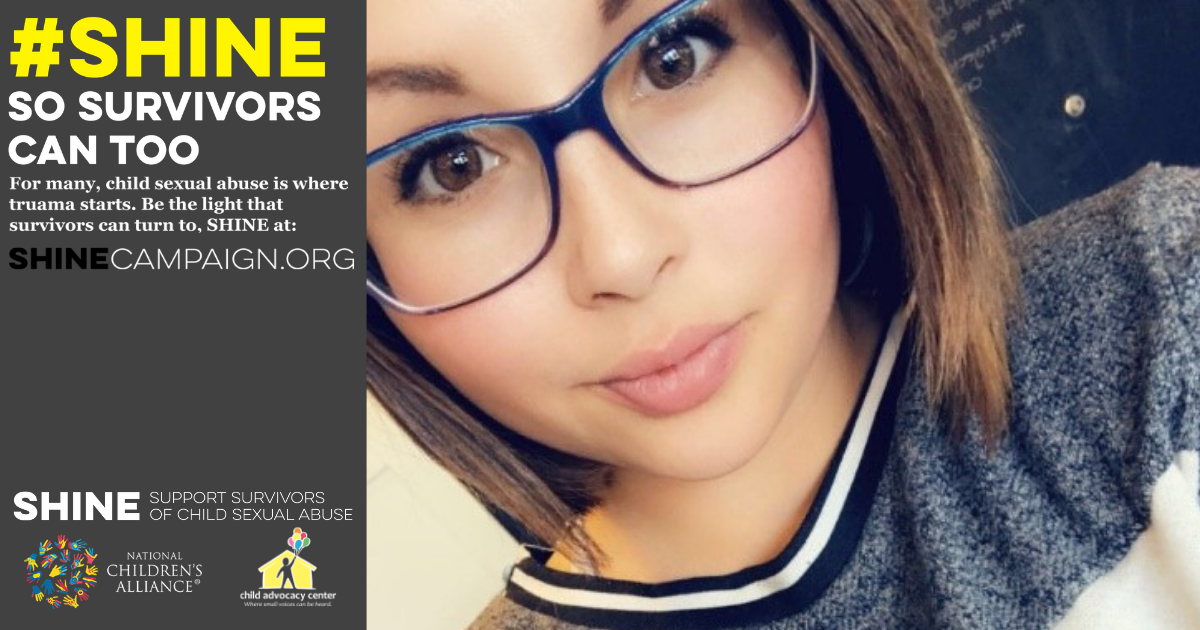 CAC: Why did you want to share your story today?
Aubrey: If you asked anyone who knew me growing up, they would tell you I was one of the happiest, spunkiest girls they knew. But on the inside, I was broken. At a glance you wouldn't have known I was sexually assaulted repeatedly growing up because the fear, disgust, and shame I felt, I hid for far too long.
I share my story in hopes that the simple act of sharing my story could possibly help other survivors. By sharing our stories, we are speaking out for those who are not ready yet. We are standing up for all survivors. You do not have to be ashamed of what happened to you, it is not your fault.  If I can help in any way by giving others the courage to find their voice, I will. I want to be the voice that I didn't have when I was a child.
CAC: Who helped you the most in your healing? How?
Aubrey: Unfortunately, at the time of my disclosure, I was not brought to the CAC. Nothing happened with my case [and] my perpetrator got away with it. I often think my case could have ended differently had I been interviewed at the Child Advocacy Center. Maybe he would have been held accountable. Though the road was rough (we were never connected to resources) my mother always stuck by me and having her support is what made a difference in my life. We did not talk much about the abuse growing up, in fact, there are details of the assaults I experienced she doesn't know about today but, I knew she had my back.  
Along with that, I found refuge and clarity in dance and swimming. Dance was a place I could be me and express emotions through movement. Dance was a second home for me and I had another family I could always depend on good days and bad. Swimming, you spend so much time underwater that you learn to talk to yourself. For me that was my time to get out what I needed to get out, for me to release my emotions and direct it to an end goal, to make it to the end. Though I stayed silent and didn't often talk about my feelings my mom, dance, and swimming saved my life. I don't think my mom and my coaches realize that just by providing me the space and the comradery, the trajectory of my life was forever changed for the better.   
CAC: In your day-to-day, how do you make the world a better place for kids who are going through what you went through?
Aubrey: Though it took some time, I eventually discovered that maybe there could be something positive that could come from all my trauma. The services that I needed back then, are the services that the Child Advocacy Center provides every day and I am so grateful to have a career at the CAC. "Be who you needed when you were younger" is a quote that resonates with me. I started my job at the Child Advocacy Center in hopes that no child or family would ever have the same horrific experience with the system that I did. Everything we do at the Child Advocacy Center is centered around families and their experience. Immediate and ongoing advocacy and support, regular case updates, trauma informed services, setting up Court School, being there through the entire investigation and prosecution process. Simply, we are there when they need the emotional support to make it through another day. I believe we could all try our best to understand what it would mean to someone, especially a child, to have support during the aftermath of sexual assault. This is why I am an advocate. I look back and think about how differently my life would have been had I gone through the Child Advocacy Center.  Ultimately, I live every day striving to be the person that I needed when I was a child. I encourage you all to help small voices be heard and make sure that child advocacy services are routinely made available to child victims of abuse.
CAC: What would you say to other survivors?
Aubrey: Something was taken from me as a child and it's something I can never get back. I have learned that I am not what they took from me.  YOU ARE NOT WHAT THEY TOOK FROM YOU. As a survivor, I know that there are tough days. Dark days that you think will never end but, they eventually will. Here is to shining that light. To all the survivors, you are loved, supported, trusted, seen, heard, valued, celebrated, and believed. It is not your fault. To the silent survivor, please know you are not alone. Healing takes time, do not give up. NEVER FORGET HOW STRONG YOU ARE. For those who are fortunate enough to not have experienced sexual assault and the devastating aftermath, please know you likely know someone who has. Please know your words and actions hold so much power. You can make a difference for survivors of child abuse and there are a million ways to help. #SHINE