How Bailey SHINEs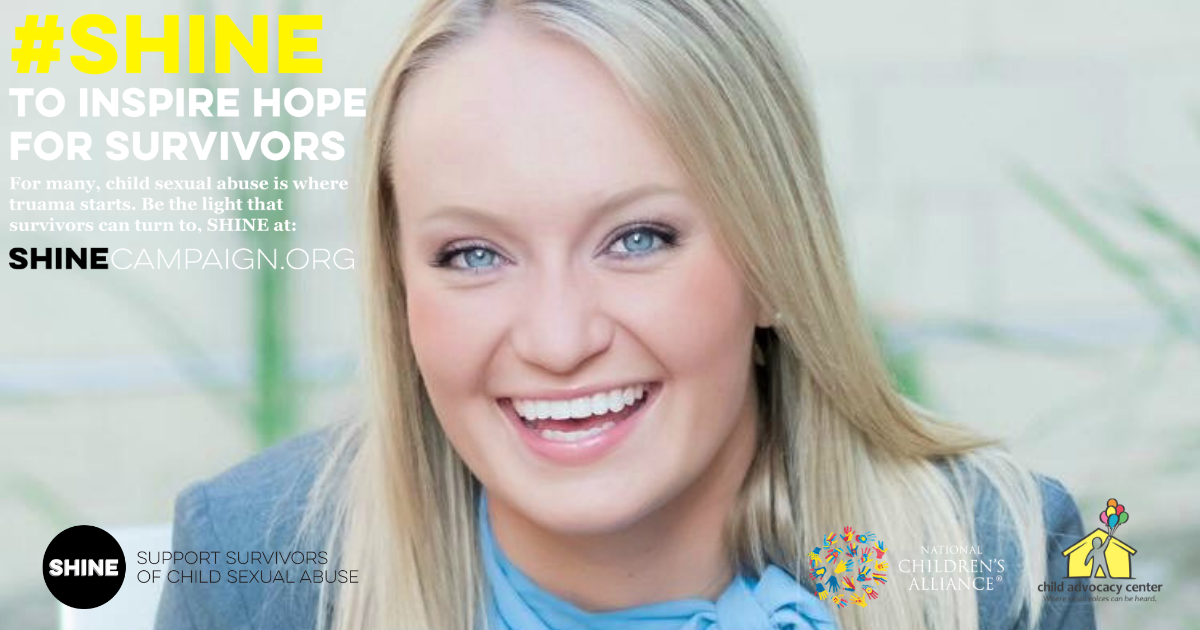 CAC: Why did you want to share your story today?
Bailey: I share my story because there should be no shame or embarrassment in being a survivor of child sexual abuse. While the trauma endured may have some life-long impacts, it should never get in the way of hopes and dreams. I share my story to show that being a survivor takes nothing away from you. In my mind, it only makes you a much stronger individual. You can still succeed, and you can still go wherever your dreams may take you.
CAC: Who helped you the most in your healing? How?
Bailey: My [CAC] advocate, Amanda, helped me more than I could ever imagine or explain. She was in my corner from day one, and she went to bat for me every chance that she had. Not only did she support me during the most difficult time of my life, but she also continues to support me today. Our relationship has continued for over five years now, and I will forever be so grateful for that. One of the biggest factors that aided in my healing process was being given the opportunity to help others that have been in a similar situation. I found an enormous amount of strength in being able to speak out and use my experiences to inspire others. 
Finally, I looked to God. I will be the first to admit that my faith was shaken initially. It is hard to understand why something so horrible can happen to you. But it was ultimately my faith that helped my healing process more than anything.
CAC: In your day-to-day, how do you make the world a better place for kids who are going through what you went through?
Bailey: I use my voice.
I want my voice to help people understand that child sexual abuse is not something anyone should ever turn a blind eye to. People have a tendency to see the good in the world, and they don't always recognize that terrible things are happening all around us. Child sexual abuse is way too prevalent in our society. We need to speak up for those who cannot speak for themselves.
I want my voice to encourage people to believe all survivors. Do not be indifferent to the situation. The best thing you can say to someone who has shared their story is, "I believe you." One of the hardest things to overcome is the feeling that you have done something wrong in speaking up. Society needs to do a better job lifting survivors up instead of criticizing and ridiculing them.
I want my voice to travel to children who may not understand that what is happening to them is wrong and that it is okay to stop it. I want them to understand that no matter who it is or how powerful they may be, you can make it stop. There will be people in your corner to support you and fight for you.
Finally, I want my voice to reach survivors. I want them to know that I am in your corner. I believe you. I support you.
CAC: What would you say to other survivors?
Bailey: Never be ashamed. Never feel like you are less than anyone else. You are so much stronger than you think. Isaiah 43:2-3 says "When you go through deep waters, I will be with you. When you go through rivers of difficulty, you will not drown. When you walk through the fire of oppression, you will not be burned up; the flames will not consume you. For I am the Lord, your God." You will get through this.
CAC: Is there anything else you want to share briefly?
Bailey: My favorite saying has always been, "You don't have to be the biggest or the strongest to be the toughest," and I believe every word with my whole heart.